Winnipeg's Premier Cleaning Services
Here's how it works

Book
We're not your typical cleaning service. We don't believe in waiting for quotes. With MintyMaids, you can book your monthly, bi-weekly, or one-off cleaning online in 60 seconds with our flat rate pricing system.

Confirm
We're a high-tech cleaning company. After you pay securely online, you can login to your account to manage your cleanings. You can add special instructions, change the time or even cancel.

Clean
We can either call, text, or email you to confirm your maid service appointment. Then your trusted MintyMaids team of 2 will arrive on time, and ready to clean. It's that simple!
Book a trusted cleaner
 We know inviting someone into your home is a big deal. MintyMaids are carefully vetted by us so we choose the right team to care for your home. We always use teams of 2 for transparent and quality work.
We guarantee your MintyMaids will always be:

Experienced and Professional

Background and referenced checked

Interviewed in person

Insured and bonded

Highly rated by other MintyMaids customers
---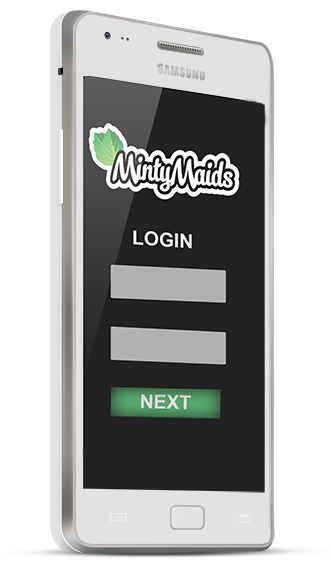 ---
Create an account with us
---
You'll get access to our software which lets you book, edit and update details, even cancel. Use either a computer or your smartphone.
---
CLICK TO CREATE AN ACCOUNT
---
Your trust and security are our priority

Complete Peace of Mind
Your cleaners have passed multiple in-person interviews, background checks, our in-depth training program, and are fully insured and bonded. 

Customer Rated Teams
MintyMaid teams are rated by their customers after every clean and have to keep receiving top reviews to get customers through the MintyMaids platform.

Secure online payment
Payment is made through Stripe using industry leading 256-bit SSL encryption. Our security practices are monitored and verified.

Money back guarantee 
If you're not happy with our housekeeping services, we'll send a team out to make it right. If it's still not clean, we offer a full money back refund.
---
A little more about us
Imagine coming home to an immaculate house without ever having to pick up a duster, vacuum or sponge. MintyMaids Cleaning Services is ready to help. We are excited to earn your trust and provide you with the best cleaning service available in Winnipeg at a competitive rate. Our customers' needs are of the utmost importance to us. Every member of our team is committed to meeting your needs. As a result of this, it is no wonder that our primary source of new clients is referrals from existing customers. Our house cleaning services take care of a wide range of time consuming tasks, and allow you to spend your time focusing on the important things in your life like family, friends and your career.
There are many factors that set MintyMaids Cleaning Services apart from other cleaning companies in Winnipeg. Most importantly, we will work with you for as long as necessary to ensure that your home is cleaned the way you need it to be. Our professionals work in teams of two so as to guarantee you a thorough, spotless clean in a timely manner. We've found that having two sets of hands improves the speed of the clean, but two sets of eyes improves the thoroughness and quality. Each maid has to sign off on their own work and their partner's work before the job is considered complete.
---
Our maid service is designed start to finish to fit with your life and schedule. Don't have time to call and book an appointment? No problem! You can schedule your house cleaning online with our proprietary booking software. Prefer to talk to us on the phone? That's fine too. We're happy to take your call any time of the day to discuss scheduling, or respond to questions and concerns. We make it possible to schedule the cleaning you need, when you need, how you need.
Once your cleaning is scheduled it's time to relax! We'll manage everything else. You will receive reminders of your cleaning approaching the date. If you'd prefer to be out of the house when we clean we're more than happy to clean autonomously. Some of our clients prefer this and choose to leave us a key, or hide one in a designated place for us to pick up.
Looking for a Winnipeg cleaning service that can provide you with the same cleaning team for each cleaning? MintyMaids is the way to go. We understand how important it is to have the same cleaners every time. If you have specific instructions you don't want to have to explain them every time a new cleaning person shows up. We do our best to guarantee you the same cleaning team for each and every cleaning. If for some reason we are unable to we will contact you well in advance so we can meet your expectations and keep you happy. We're big on setting expectations and meeting them each and every time. Nobody likes surprises, especially us!
As cleaning service professionals we understand the benefits and disadvantages of using green products as opposed to traditional harsher chemicals. Chemicals smell and can be potentially harmful to babies and pets but there is no arguing that they get the job done. Green cleaning supplies are much less harmful, but some people prefer "the hard stuff" on bathrooms and kitchens. We always come fully equipped with a variety of cleaning products, so if you have a preference just mention it to us when you're booking your appointment or when we arrive and we'll be sure to accommodate. You can say goodbye to the traditional hassles of hiring an independent maid service or franchised cleaning company. No need to worry about bonding, contracts, insurance etc. MintyMaids is fully bonded and insured.
Our cleaners are vetted, background checked and trained via our in house training program. When it comes to cleaning services Winnipeg offers nothing that comes close to MintyMaids. Don't settle for less. Book your first cleaning now!
---